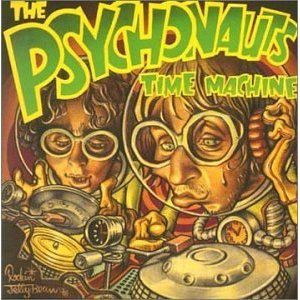 Tracklist
DJ Shadow - Organ Donor
La Funk Mob - 357 Magnum Force
Sukia - The Dream Machine
As One - Away From All Of This
DJ Shadow - Influx
Palm Skin Productions - Slipper Suite
DJ Krush - Duality (With DJ Shadow)
Dr. Octagon - Wild & Crazy (Instrumental)
Blackalicious - Rhymes For The Deaf, Dumb And Blind
Attica Blues - 808 Song
The Federation - Life So Free (Party Rockin' Productions Remix)
DJ Krush - Only The Strong Survive (Underdog Remix)
Attica Blues - Tender (The Final Story)
Luke Vibert - Intro-Welcome
DJ Krush - Kemuri
DJ Krush - OCE 9504
DJ Shadow - Lost And Found (S.F.L.)
Andrea Parker - The Rocking Chair
Repercussions - Field Trippin'
Olde Scottish - Wildstyle
DJ Shadow - Mindnight In A Perfect World
The Prunes - Intermission Pt. 3
DJ Shadow - Organ Donor
DJ Shadow - Hardcore (Instrumental) Hip-Hop
Dr. Octagon - Bear Witness
DJ Krush - Meiso (Klub Mix By DJ Shadow)
Latyrx - Funky Granules
Sukia - The Dream Machine
UNKLE - Berry Meditation (The Darker The Berry The Sweeter The Juice Mix)
Olde Scottish - Martian Economics
The Prunes - Cantona Style
Sam Sever And The Raiders Of The Lost Art - Do You Understand?
Marden Hill - Come On
Love T.K.O. - Desert Song
Liquid Liquid - Scraper (Psychonauts Remix)
Midnight Funk Association - Firescratch
La Funk Mob - Motor Bass Gets Phunked Up (Electrofunk Remix)
DJ Shadow - Organ Donor
Clubbed To Death - Clubbed To Death (La Funk Mob Variation)
UNKLE & Nigo - Ape Shall Never Kill Ape
La Funk Mob - Ravers Suck Our Sound & Get Fuck
Andrea Parker - Melodious Thunk
RPM - Sortie Des Ombres
UNKLE - Rock On
Dr. Octagon - Blue Flowers
DJ Shadow - 89.9 Megamix
Attica Blues - Intro
Money Mark - Cry
Time machine est la compilation d'un mix de The Psychonauts pour le label Mo'Wax sortie en 1998
Lien pour l'album : https://rs100l33.rapidshare.com/#!download|100tl4|67812817|DrR-MLiA33-06.rar|91385|R~0|0|0
Chronique
La machine à remonter dans le temps
Quel label n'a pas succomber à la tentation de sortir une compilation pour célébrer leur centième production ? F.Comm (le label de Laurent Garnier) avait offert à ses fidèles un double album (Live & Rare) regorgeant de titres rares, d'inédits et de remixs dévastateurs par la crème de la scène électronique française. Dans un autre registre, plus proche des mélodies bizarres, le label Warp fit de même avec leur Warp 100. Ainsi le classieux label londonien Mo'Wax ne déroge pas à la règle en produisant Time Machine.
Toujours à contre-courant de la musique contemporaine, l'événement de la centième sortie se devait d'être différent (et plus novateur) que ne le sont les numéros 100 des autres labels. Alors, James Lavelle confia aux Psychonauts le soin de produire un mix album faisant état des premières signatures de Mo'Wax. Derrière cette magnifique pochette (signée Rockin' Jelly Brown) et avec pas loin de 50 titres mixés sur une durée de 45 minutes, Time Machine, est une excellente rétrospective des six premières années d'activité du label.
Tout au long de ces 22 titre on croisera - souvent - DJ Shadow, DJ Krush, Dr Octagon, mais aussi Attica Blues, Sam Sever, Palmskin Productions etc. On regrettera cependant l'absence d'Urban Tribe qui s'inscrit, pourtant, dans la droite lignée artistique de Mo'Wax.
Mo'Wax, more wax (plus de vinyls), démontre qu'avec deux platines, une table de mixage et une cinquantaine de disque on peut produire un mix incroyable de créativité, d'atmosphères planante et rythmée. Cette machine à remonter le temps ravira les fans et offrira aux autres l'opportunité de découvrir la musique de demain.
Philippe Gastaud